Cutting discharge of straight blade, eliminating instability of dimensional accuracy
●Discharge chips rearward by right spiral
●It is excellent in rectilinearity because it has a bottom knife, and it has an effective diameter
●The dual structure of the boring blade (steady stop effect) and finishing blade makes it possible to obtain high dimensional accuracy and excellent surface roughness without reamer removal as a problem.
●Complete borehole processing is possible
●Surface treatment to SP-ALLOY powder high-speed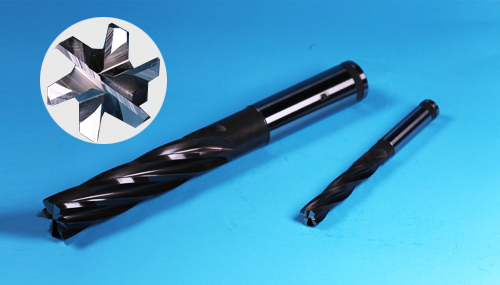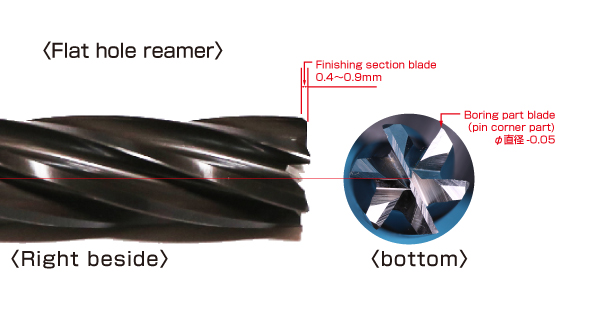 Characteristic
Characteristics of flat hole reamer (pocket hole reamer)
Bladder hole reamer processing was a problem with discharge of cutting with a straight blade, the instability of dimensional precision and difficult problems with the right spiral blade, but our Flat hole reamer has developed a unique structure for those problems solved.
When using
・Please preprocess the workpiece and first perform chamfering work on the prepared hole.
・Please pay attention to reel core runout, misalignment.
・When moving closer to the bottom of the hole, please reduce the feed speed to about 1/2.
Cutting conditions
1.For general steels, please choose cutting speed 10 ~ 15 m / min, feed speed 0.1 ~ 0.2 mm / rev, reamer fee 0.3-0.5 mm in diameter.
2.For difficult-to-cut materials, please set the cutting speed to 5 to 7 m / min.
3.For non-metals, please set the cutting speed to 15 to 30 m / min.
standard
Flat hole reamer Specification

| OD | Blade length | Shank lower length | Shank diameter | Shank length | full length |
| --- | --- | --- | --- | --- | --- |
| 3.0 | 20 | 35 | 4.0 | 25 | 60 |
| 3.5 | 20 | 35 | 4.0 | 25 | 60 |
| 4.0 | 20 | 40 | 5.0 | 25 | 65 |
| 4.5 | 20 | 40 | 5.0 | 25 | 65 |
| 5.0 | 25 | 45 | 6.0 | 30 | 75 |
| 5.5 | 25 | 45 | 6.0 | 30 | 75 |
| 6.0 | 25 | 45 | 6.0 | 30 | 75 |
| 6.5 | 25 | 45 | 6.0 | 30 | 75 |
| 7.0 | 35 | 55 | 8.0 | 35 | 90 |
| 7.5 | 35 | 55 | 8.0 | 35 | 90 |
| 8.0 | 35 | 55 | 8.0 | 35 | 90 |
| 8.5 | 35 | 55 | 8.0 | 35 | 90 |
| 9.0 | 45 | 65 | 10.0 | 40 | 105 |
| 9.5 | 45 | 65 | 10.0 | 40 | 105 |
| 10.0 | 45 | 65 | 10.0 | 40 | 105 |
| 10.5 | 45 | 65 | 10.0 | 40 | 105 |
| 11.0 | 55 | 75 | 12.0 | 45 | 120 |
| 11.5 | 55 | 75 | 12.0 | 45 | 120 |
| 12.0 | 55 | 75 | 12.0 | 45 | 120 |
| 12.5 | 55 | 75 | 12.0 | 45 | 120 |
| 13.0 | 55 | 85 | 12.0 | 45 | 120 |
| 13.5 | 55 | 85 | 12.0 | 45 | 130 |
| 14.0 | 55 | 85 | 16.0 | 45 | 130 |
| 14.5 | 55 | 85 | 16.0 | 45 | 130 |
| 15.0 | 60 | 90 | 16.0 | 50 | 140 |
| 15.5 | 60 | 90 | 16.0 | 50 | 140 |
| 16.0 | 60 | 90 | 16.0 | 50 | 140 |
| 16.5 | 60 | 90 | 20.0 | 50 | 140 |
| 17.0 | 60 | 90 | 20.0 | 50 | 140 |
| 17.5 | 60 | 90 | 20.0 | 50 | 140 |
| 18.0 | 70 | 110 | 20.0 | 50 | 160 |
| 18.5 | 70 | 110 | 20.0 | 50 | 160 |
| 19.0 | 70 | 110 | 20.0 | 50 | 160 |
| 19.5 | 70 | 110 | 20.0 | 50 | 160 |
| 20.0 | 75 | 115 | 20.0 | 50 | 175 |
Please purchase the product at a machine tool trading company