Solve the problem of cutting and discharging of pocket hole reamer and realize high dimensional accuracy
●The right spiral discharges the chips backwards, and there is no chance to remove chips in the bottom of the hole.
●Because it has a bottom blade, fading is possible and it is all effective diameter except for the tip IC.
●The dual structure of boring blade (FIX effect) and finishing blade makes it possible to obtain high dimensional accuracy and excellent surface roughness without reamer removal as a problem.
●It uses high-grade high-speed (including cobalt) as a reamer material, and it is more excellent in durability by ionic nitrogenization.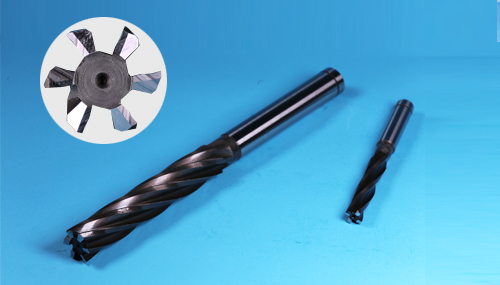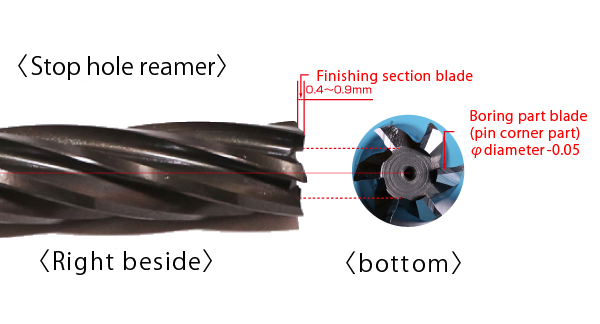 Characteristic
Features of stop hole reamer (pocket hole reamer)
Bladder hole reamer processing was a problem with discharge of cutting with a straight blade, the instability of dimensional precision and difficult problems with the right spiral blade, but our Flat hole reamer has developed a unique structure for those problems solved.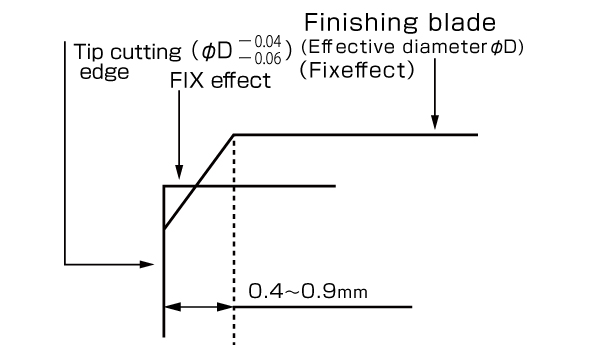 When using
・Please carry out chamfering work of pilot hole as preprocessing.
・Please pay attention to reel core runout, misalignment and fix the work tightly.
・Please use high quality water insoluble cutting oil.
Cutting conditions
1.For general steels, please choose cutting speed 10 ~ 15 m / min, feed speed 0.1 ~ 0.2 mm / rev, reamer fee 0.3-0.5 mm in diameter.
2.For difficult-to-cut materials, please set the cutting speed to 5 to 7 m / min.
3. For non-metals, please set the cutting speed to 15 ~ 20 m / min.
standard
Stop hole reamer MT axis Specification

OD
tolerance
Blade length
shank
Lower length
full length
shank
Number of blades
(Boring / cutting edge)
5.0
+0.006
+0.003
30
44.5
110
MT1
4(2+2)
5.5
〃
30
44.5
110
MT1
4(2+2)
6.0
〃
30
44.5
110
MT1
4(2+2)
6.5
〃
40
54.5
120
MT1
4(2+2)
7.0
+0.008
+0.004
40
54.5
120
MT1
4(2+2)
7.5
〃
40
54.5
120
MT1
4(2+2)
8.0
〃
40
54+.5
120
MT1
4(2+2)
8.5
〃
50
69.5
135
MT1
4(2+2)
9.0
〃
50
69.5
135
MT1
4(2+2)
9.5
〃
50
69.5
135
MT1
4(2+2)
10.0
〃
50
69.5
135
MT1
6(3+3)
10.5
〃
60
79.5
145
MT1
6(3+3)
11.0
+0.009
+0.004
60
79.5
145
MT1
6(3+3)
11.5
〃
60
79.5
145
MT1
6(3+3)
12.0
〃
60
79.5
145
MT1
6(3+3)
12.5
〃
70
89.5
155
MT1
6(3+3)
13.0
〃
70
89.5
155
MT1
6(3+3)
13.5
〃
70
89.5
155
MT1
6(3+3)
14.0
+0.009
+0.004
70
89.5
155
MT1
6(3+3)
14.5
〃
70
89.5
155
MT1
6(3+3)
15.0
〃
90
110
190
MT2
6(3+3)
15.5
〃
90
110
190
MT2
6(3+3)
16.0
〃
90
110
190
MT2
6(3+3)
16.5
〃
100
120
200
MT2
6(3+3)
17.0
〃
100
120
200
MT2
6(3+3)
17.5
〃
100
120
200
MT2
6(3+3)
18.0
+0.011
+0.006
100
120
200
MT2
6(3+3)
18.5
〃
100
120
200
MT2
6(3+3)
OD
tolerance
Blade length
shank
Lower length
full length
shank
Number of blades
(Boring / cutting edge)
19.0
+0.011
+0.006
100
120
200
MT2
6(3+3)
19.5
〃
100
120
200
MT2
6(3+3)
20.0
〃
100
120
200
MT2
6(3+3)
20.5
+0.011
+0.006
100
130
210
MT2
6(3+3)
21.0
〃
110
130
210
MT2
6(3+3)
21.5
〃
120
140
220
MT2
6(3+3)
22.0
〃
120
140
220
MT2
6(3+3)
22.5
〃
120
140
220
MT2
6(3+3)
23.0
〃
120
140
220
MT2
6(3+3)
23.5
〃
120
140
220
MT2
6(3+3)
24.0
〃
130
151
250
MT3
8(4+4)
24.5
〃
130
151
250
MT3
8(4+4)
25.0
〃
130
151
250
MT3
8(4+4)
25.5
〃
130
151
250
MT3
8(4+4)
26.0
〃
130
151
250
MT3
8(4+4)
26.5
〃
140
161
260
MT3
8(4+4)
27.0
〃
140
161
260
MT3
8(4+4)
27.5
〃
140
161
260
MT3
8(4+4)
28.0
〃
140
161
260
MT3
8(4+4)
28.5
〃
140
161
250
MT3
8(4+4)
29.0
〃
140
161
260
MT3
8(4+4)
29.5
〃
140
161
260
MT3
8(4+4)
29.0
〃
140
161
260
MT3
8(4+4)
30.0
〃
140
161
260
MT3
8(4+4)
30.5
〃
150
171
270
MT3
8(4+4)
31.0
〃
150
171
270
MT3
8(4+4)
31.5
〃
150
171
270
MT3
8(4+4)
32.0
〃
150
171
270
MT3
8(4+4)
Stop hole reamer S axis Specification

[4 mm to 20 mm - 0.1 mm jump standard item], [4 mm to 30 mm - 0.5 mm jump standard item]
OD
tolerance
Blade length
full length
Shank diameter
Shank length
Number of blades
(Boring / cutting edge)
3.0
+0.006
+0.003
30
70
6.0
30
4(2+2)
3.5
〃
30
70
6.0
30
4(2+2)
4.0
〃
30
75
6.0
30
4(2+2)
4.5
〃
30
75
6.0
30
4(2+2)
5.0
〃
30
75
6.0
30
4(2+2)
6.0
〃
30
75
6.0
30
4(2+2)
6.5
〃
40
90
8.0
35
4(2+2)
7.0
+0.008
+0.004
40
90
8.0
35
4(2+2)
7.5
〃
40
90
8.0
35
4(2+2)
8.0
〃
40
90
8.0
35
4(2+2)
8.5
〃
50
105
10.0
40
4(2+2)
9.0
〃
50
105
10.0
40
4(2+2)
9.5
〃
50
105
10.0
40
4(2+2)
10.0
〃
50
105
10.0
40
6(3+3)
10.5
〃
60
125
12.0
45
6(3+3)
11.0
+0.009
+0.004
60
125
12.0
45
6(3+3)
11.5
〃
60
125
12.0
45
6(3+3)
12.0
〃
60
125
12.0
45
6(3+3)
12.5
〃
70
140
12.0
50
6(3+3)
13.0
〃
70
140
12.0
50
6(3+3)
13.5
〃
70
140
12.0
50
6(3+3)
14.0
〃
70
140
12.0
50
6(3+3)
14.5
〃
70
140
12.0
50
6(3+3)
15.0
〃
90
190
12.0
85
6(3+3)
15.5
〃
90
190
12.0
85
6(3+3)
16.0
〃
90
190
16.0
85
6(3+3)
16.5
〃
100
200
16.0
85
6(3+3)
17.0
〃
100
200
16.0
85
6(3+3)
17.5
〃
100
200
16.0
85
6(3+3)
18.0
+0.011
+0.006
100
200
16.0
85
6(3+3)
OD
tolerance
Blade length
Shank diameter
Shank length
full length
Number of blades
(Boring / cutting edge)
18.5
+0.011
+0.006
100
200
16.0
85
6(3+3)
19.0
〃
100
200
16.0
85
6(3+3)
19.5
〃
100
200
16.0
85
6(3+3)
20.0
〃
100
200
20.0
85
6(3+3)
20.5
〃
110
200
20.0
85
6(3+3)
21.0
〃
110
210
20.0
85
6(3+3)
21.5
〃
120
220
20.0
85
6(3+3)
22.0
〃
120
220
20.0
85
6(3+3)
22.5
〃
120
220
20.0
85
6(3+3)
23.0
〃
120
220
20.0
85
6(3+3)
23.5
〃
120
220
20.0
85
6(3+3)
24.0
〃
130
250
20.0
100
8(4+4)
24.5
〃
130
250
20.0
100
8(4+4)
25.0
〃
130
250
20.0
100
8(4+4)
25.5
〃
130
250
20.0
100
8(4+4)
26.0
〃
130
250
20.0
100
8(4+4)
26.5
〃
140
260
20.0
100
8(4+4)
27.0
〃
140
260
20.0
100
8(4+4)
27.5
+0.011
+0.006
140
260
25.0
100
8(4+4)
28.0
〃
140
260
25.0
100
8(4+4)
28.5
〃
140
260
25.0
100
8(4+4)
29.0
〃
140
260
25.0
100
8(4+4)
29.5
〃
140
260
25.0
100
8(4+4)
30.0
〃
140
260
25.0
100
8(4+4)
30.5
〃
150
270
25.0
100
8(4+4)
31.0
〃
150
270
25.0
100
8(4+4)
31.5
〃
150
270
25.0
100
8(4+4)
32.0
〃
150
270
25.0
100
8(4+4)
Please purchase the product at a machine tool trading company