Excellent accuracy in stainless steel
●Surface roughness 6S or more with H7 accuracy is obtained
●Easy pilot hole processing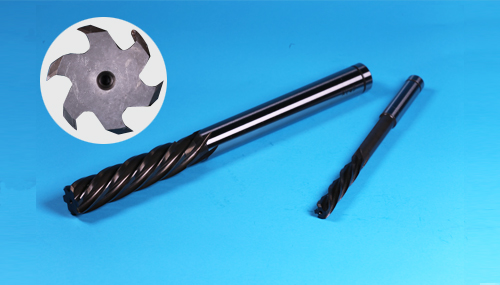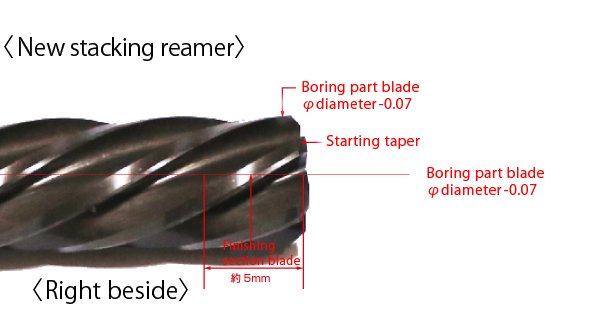 Characteristic
Characteristics of stacking reamer cutting mechanism
With the corner cutting edge and the boring part blade, after finishing the finish to the appropriate finish, the finishing part blade is cut to obtain high surface roughness and high precision dimensions. The boring part blade of the stacking reamer cuts the cutting resistance as a biting angle (40 °) and cuts irrespective of the size of Reamershi by our unique FIX effect. We will make Chatter small and finish it with high precision at the rake angle and the finish part of the strong left twist which took off the lesser reamashiro.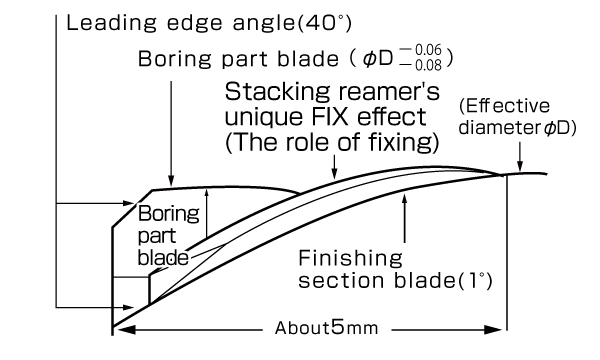 ■Cutting oil
Water-soluble cutting oil is excellent in dimensional accuracy and surface roughness by minimizing the expansion amount. Insoluble cutting oil has high lubricity, so it reduces variations in the hole system and improves reamer life. Particularly when extreme pressure oil containing chlorine and also extreme pressure additives of the sulfur type is used, dimensional accuracy, surface roughness, reamer life is improved.
■Durability
Use cobalt (Co) as a reamer material. Furthermore, Hv 1150 - 1200 high hardness layer by ion nitrogen treatment has about 2/100 mm, so it is particularly effective for alloy steel, stainless steel hardness and so on.
■Cylindricality, amount of expansion
Stacking reamer's original cutting structure and FIX effect of the boring part will control reamed walking phenomenon to guarantee high precision.
Cutting condition reference
Work material

Reamer diameter

General Copper SS.SC etc.
Cutting speed
m/min
Feed
mm/rev
Reamer fee
mm
6

15〜8

0.3〜0.1

0.2〜0.4

12

15〜8

0.3〜0.1

0.2〜0.5

16

15〜8

0.3〜0.1

0.2〜0.5

20

12〜8

0.3〜0.1

0.3〜0.6

25

12〜8

0.4〜0.2

0.3〜0.8

30

12〜7

0.4〜0.2

0.3〜0.8

40

12〜7

0.4〜0.2

0.4〜1

50

15〜8

0.4〜0.2

0.4〜1
Hard-to-cut material SKD.SUS etc.
Cutting speed
m/min
Feed
mm/rev
Reamer fee
mm

8〜5

0.2〜0.1

0.2〜0.4

8〜5

0.2〜0.1

0.2〜0.4

8〜5

0.2〜0.1

0.3〜0.5

7〜4

0.3〜0.1

0.3〜0.5

7〜4

0.3〜0.1

0.3〜0.6

7〜4

0.3〜0.1

0.3〜0.6

7〜4

0.3〜0.1

0.3〜0.6

7〜4

0.3〜0.1

0.3〜0.6
Nonferrous metal Aℓ.Cu alloy
Cutting speed
m/min
Feed
mm/rev
Reamer fee
mm

30〜10

0.2〜0.1

0.2〜0.4

30〜10

0.3〜0.1

0.2〜0.5

30〜10

0.3〜0.2

0.3〜0.6

20〜10

0.3〜0.2

0.3〜0.8

20〜10

0.4〜0.2

0.3〜0.8

15〜10

0.4〜0.2

0.3〜0.8

15〜10

0.4〜0.2

0.4〜1

15〜10

0.4〜0.2

0.4〜1
Enlargement measurement
Machine name used:

Mitsui Seiki M/C VS3A(BT40)

Cutting:

SUS304(Sheet thickness 30mm)

Use holder:

BIG BT40 NBS20-90

Cutting oil:

Emulsion
External supply 6 coolant nozzles used

Tool used:

I )Stacking reamer φ10-S10
II)Company A reamer φ10-S10

Cutting conditions:

V=5m/min N=160rpm
F=24mm/min S=0.15mm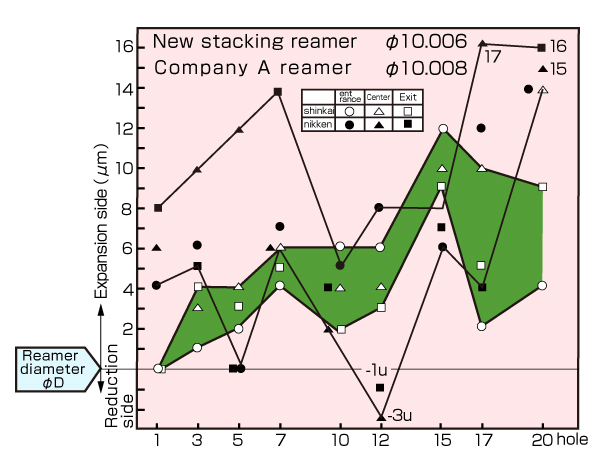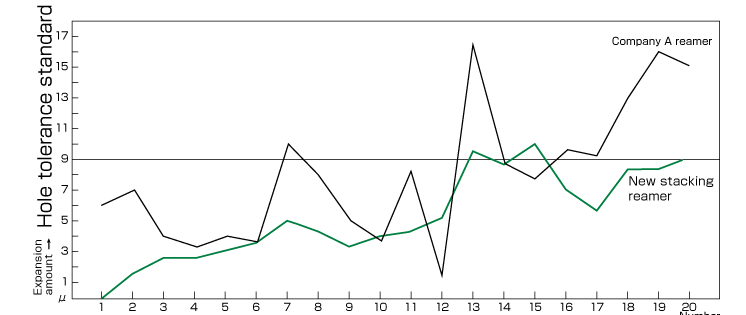 standard
New stacking
(Cobalt Hyth SKH 40) MT axis specification
[5 mm to 25 mm - 0.1 mm jump standard item], [5 mm to 50 mm - 0.5 mm jump standard item]
OD
tolerance
Blade length
shank
Lower length
full length
shank
Number of blades
(Boring / cutting edge)
5.0
+0.009
+0.004
30
54.5
120
MT1
4(2+2)
6.0
〃
30
62.5
128
MT1
4(2+2)
7.0
+0.012
+0.006
35
69.5
135
MT1
4(2+2)
8.0
〃
40
79.5
145
MT1
4(2+2)
9.0
〃
40
94.5
160
MT1
4(2+2)
10.0
〃
48
104.5
170
MT1
6(3+3)
11.0
+0.015
+0.007
51
109.5
175
MT1
6(3+3)
12.0
〃
54
119.5
185
MT1
6(3+3)
13.0
〃
54
119.5
185
MT1
6(3+3)
14.0
〃
57
124.5
190
MT1
6(3+3)
15.0
+0.015
+0.007
60
130
210
MT2
6(3+3)
16.0
〃
60
130
210
MT2
6(3+3)
17.0
〃
64
140
220
MT1
6(3+3)
18.0
〃
68
140
220
MT2
6(3+3)
19.0
+0.017
+0.008
68
140
220
MT2
6(3+3)
20.0
〃
68
145
225
MT2
6(3+3)
21.0
〃
70
150
230
MT2
6(3+3)
22.0
〃
70
150
230
MT2
6(3+3)
23.0
〃
70
160
240
MT2
6(3+3)
24.0
〃
80
171
270
MT3
8(4+4)
25.0
〃
80
171
270
MT3
8(4+4)
26.0
〃
80
181
280
MT3
8(4+4)
27.0
〃
80
181
280
MT3
8(4+4)
28.0
〃
80
181
280
MT3
8(4+4)
29.0
〃
80
181
280
MT3
8(4+4)
30.0
〃
85
191
290
MT3
8(4+4)
31.0
+0.020
+0.009
85
191
290
MT3
8(4+4)
32.0
〃
90
201
300
MT3
8(4+4)
33.0
〃
90
201
325
MT4
8(4+4)
34.0
〃
90
201
325
MT4
8(4+4)
35.0
〃
90
206
330
MT4
10(5+5)
36.0
〃
90
206
330
MT4
10(5+5)
37.0
〃
95
206
330
MT4
10(5+5)
OD
tolerance
Blade length
shank
Lower length
full length
shank
Number of blades
(Boring / cutting edge)
38.0
+0.020
+0.009
95
206
330
MT4
10(5+5)
39.0
〃
95
206
330
MT4
10(5+5)
40.0
〃
95
206
330
MT4
10(5+5)
41.0
〃
95
206
330
MT4
10(5+5)
42.0
〃
95
216
340
MT4
10(5+5)
43.0
〃
95
216
340
MT4
10(5+5)
44.0
〃
95
216
340
MT4
10(5+5)
45.0
〃
95
216
340
MT4
10(5+5)
46.0
〃
95
216
340
MT4
10(5+5)
47.0
〃
95
216
340
MT4
10(5+5)
48.0
〃
100
226
350
MT4
10(5+5)
49.0
〃
100
226
350
MT4
10(5+5)
50.0
+0.024
+0.011
105
239
385
MT5
12(6+6)
51.0
〃
105
239
385
MT5
12(6+6)
52.0
〃
105
239
385
MT5
12(6+6)
53.0
〃
105
239
385
MT5
12(6+6)
54.0
〃
105
239
385
MT5
12(6+6)
55.0
〃
105
239
385
MT5
12(6+6)
56.0
〃
105
239
385
MT5
12(6+6)
57.0
〃
105
239
385
MT5
12(6+6)
58.0
〃
105
239
385
MT5
12(6+6)
59.0
〃
105
239
385
MT5
12(6+6)
60.0
〃
105
239
385
MT5
12(6+6)
61.0
〃
105
239
385
MT5
14(6+8)
62.0
〃
105
239
385
MT5
14(6+8)
63.0
〃
115
249
405
MT5
14(6+8)
64.0
〃
115
249
405
MT5
14(6+8)
65.0
〃
115
249
405
MT5
14(6+8)
66.0
〃
115
249
405
MT5
14(6+8)
67.0
〃
115
249
405
MT5
14(6+8)
68.0
〃
115
249
405
MT5
14(6+8)
69.0
〃
115
249
405
MT5
14(6+8)
70.0
〃
115
249
405
MT5
14(6+8)
New stacking
(Cobalt High SKH 40) S-axis specification

[3 mm to 14 mm - 0.05 mm jump standard item], [3 mm to 32 mm - 0.1 mm jump standard item], [3 mm to 50 mm - 0.5 mm jump standard item]
OD
tolerance
Blade length
Shank diameter
Shank length
full length
Number of blades
(Boring / cutting edge)
3.0
+0.009
+0.004
25
4.0
25
70
4(2+2)
3.5
〃
25
4.0
25
70
4(2+2)
4.0
〃
30
5.0
25
75
4(2+2)
4.5
〃
30
5.0
25
75
4(2+2)
5.0
〃
30
6.0
30
85
4(2+2)
6.0
〃
30
6.0
30
90
4(2+2)
7.0
+0.012
+0.006
35
8.0
35
100
4(2+2)
8.0
〃
40
8.0
40
120
4(2+2)
9.0
〃
40
10.0
40
130
4(2+2)
10.0
〃
48
10.0
45
140
6(3+3)
11.0
+0.015
+0.007
48
10.0
45
150
6(3+3)
12.0
〃
54
12.0
45
155
6(3+3)
13.0
〃
54
12.0
50
160
6(3+3)
14.0
〃
57
12.0
50
170
6(3+3)
15.0
〃
60
12.0
105
180
6(3+3)
16.0
〃
60
16.0
105
180
6(3+3)
17.0
〃
65
16.0
110
190
6(3+3)
18.0
〃
65
16.0
110
190
6(3+3)
19.0
〃
70
16.0
115
200
6(3+3)
20.0
〃
70
16.0
115
200
6(3+3)
21.0
〃
70
20.0
135
220
6(3+3)
22.0
〃
75
20.0
130
220
6(3+3)
23.0
〃
75
20.0
140
230
6(3+3)
24.0
〃
75
20.0
140
230
8(4+4)
25.0
〃
75
20.0
140
230
8(4+4)
26.0
〃
80
25.0
155
250
8(4+4)
27.0
〃
80
25.0
155
250
8(4+4)
28.0
〃
80
25.0
155
250
8(4+4)
29.0
〃
80
25.0
155
250
8(4+4)
30.0
+0.020
+0.009
85
25.0
170
270
8(4+4)
31.0
〃
85
25.0
170
270
8(4+4)
32.0
〃
85
25.0
170
270
8(4+4)
33.0
〃
90
25.0
195
300
8(4+4)
OD
tolerance
Blade length
Shank diameter
Shank length
full length
Number of blades
(Boring / cutting edge)
34.0
+0.020
+0.009
90
32.0
195
300
8(4+4)
35.0
〃
90
32.0
195
300
10(4+6)
36.0
〃
90
32.0
195
300
10(4+6)
37.0
〃
90
32.0
195
300
10(4+6)
38.0
〃
90
32.0
195
300
10(4+6)
39.0
〃
90
32.0
195
300
10(4+6)
40.0
〃
100
32.0
210
330
10(4+6)
41.0
〃
100
32.0
210
330
10(4+6)
42.0
〃
100
32.0
210
330
10(4+6)
43.0
〃
100
32.0
210
330
10(4+6)
44.0
〃
100
32.0
210
330
10(4+6)
45.0
〃
100
42.0
230
360
10(4+6)
46.0
〃
100
42.0
230
350
10(4+6)
47.0
〃
100
42.0
230
350
10(4+6)
48.0
〃
100
42.0
230
350
10(4+6)
49.0
〃
100
42.0
230
350
10(4+6)
50.0
+0.024
+0.011
110
42.0
240
370
12(6+6)
51.0
〃
110
42.0
240
370
12(6+6)
52.0
〃
110
42.0
240
370
12(6+6)
53.0
〃
110
42.0
240
370
12(6+6)
54.0
〃
110
42.0
240
370
12(6+6)
55.0
〃
110
42.0
240
370
12(6+6)
56.0
〃
110
42.0
240
370
12(6+6)
57.0
〃
110
42.0
240
370
12(6+6)
58.0
〃
110
42.0
240
370
12(6+6)
59.0
〃
110
42.0
240
370
12(6+6)
60.0
〃
110
42.0
240
370
12(6+6)
Please purchase the product at a machine tool trading company